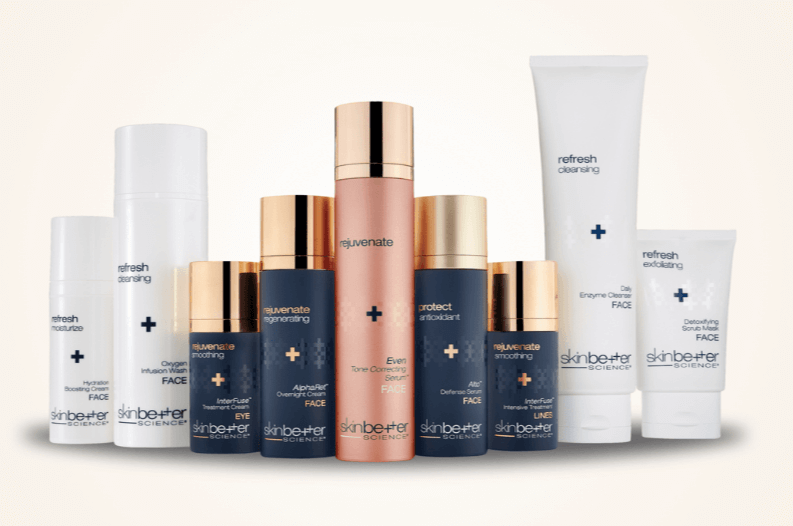 Interested in bringing out the best in your skin? With the many skin care product series on the market, it can be difficult to decide which of them may be ideal for you. Skinbetter offers award-winning skin care solutions that have been acknowledged as the latest paradigm in skincare. Offered exclusively by skin care specialists, Lougheed Laser Centre is thrilled to offer Skinbetter products to our patients looking to transform their skin health and achieve astounding results.
Lougheed Laser Centre is led by Dr. Marcia Fleming who is excited to offer the latest and greatest skin care products including those from Skinbetter. Our skin care experts look forward to meeting with you and discussing how we can help make your skin as healthy and vibrant as ever. Contact us today to schedule your skin care consultation!
WHAT IS SKINBETTER?
Skinbetter is a collection of breakthrough skin care products that harness the power of scientifically advanced ingredients including peptides to deliver an uncompromised approach to skin revitalization. While a single product can grant amazing results, a blend of multiple products can change your perspective of your skin.
WHAT ROLE DO PEPTIDES PLAY IN SKIN REVITALIZATION?
Peptides play a pivotal part in the efficacy of Skinbetter's products. Peptides aid in the stimulation of the body's collagen production, the skin's main structural protein and the building block of radiant skin. Collagen makes up approximately 75% of the skin, making its health a key factor in the complexionof our skin.
HOW CAN SKINBETTER PRODUCTS IMPROVE MY SKIN?
Skinbetter skin solutions can safely and effectively rejuvenate your skin from a broad array of common aesthetic flaws associated with the effects of sun exposure and time. Some of these skin flaws include:
Wrinkles and fine lines
Hyperpigmentation
Acne scars
Faded tone
Imbalanced texture
Enlarged pores
Acne breakouts
Sun damage
And much more
WHICH SKINBETTER PRODUCTS ARE BEST FOR ME?
With the numerous Skinbetter products in our collection, it can be hard to decide which may be ideal for your aesthetic goals. Once you schedule a consultation, our skin care specialists can carefully examine your skin, discuss your aesthetic concerns, and figure out which product(s) may be a perfect fit for you.
Eager to look and feel rejuvenated behind your skin? Contact us today to schedule your consultation and find out which Skinbetter products may be the right choice for you!