Hand-picked by Dr. Marcia Fleming, each staff member at Lougheed Laser must meet a very high standard of patient care. Not only do they need to be highly trained laser technicians and skincare professionals, but also have the right personality: friendly and approachable. Despite any previous experience they may have, our laser technicians must complete extensive training, education, and testing before assisting with any procedures.
The Lougheed Laser Family
We're proud to say that most of the Lougheed Laser staff have been with us for over ten years and are like family. Each person works as part of a cohesive whole, helping our laser centre run smoothly and creating a warm, comfortable atmosphere for patients. From the moment you reach us by phone or walk through our doors, we hope that you feel welcomed into our home.
Understanding Your Needs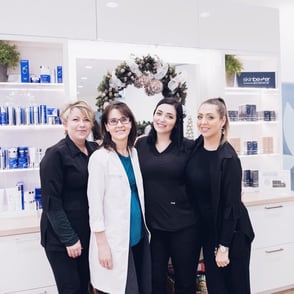 Our staff of skincare professionals and laser technicians will listen carefully to your concerns in order to understand your expectations and needs. They will take the time to sit down with you and explain all of your options, in order to provide the best possible outcome. If you have any uncertainty as to which course of treatment to pursue, we're there to help. We'll make every effort to answer all your questions, candidly drawing from our own experiences and results with each of the treatments. We're here to support and help you achieve your skincare goals.
Learn more about our staff:

Dr. Grace Francescato