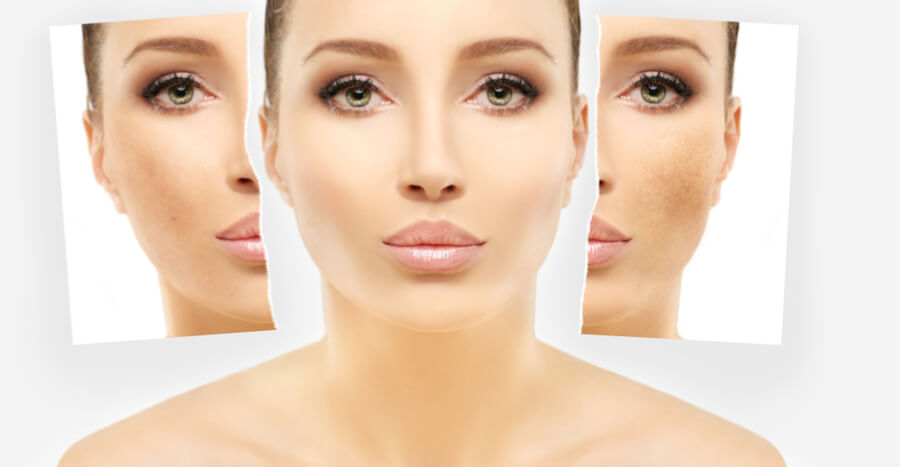 Uneven skin tone means your skin isn't a consistent colour, and is marked with pigmentation like freckles and brown spots and/or areas of redness.
What Causes Uneven Skin Tone?
The pigmentation in uneven skin tone is the result of an overproduction of melanin, primarily caused by sun exposure. The sun's ultraviolet rays encourage the skin to produce the extra melanin to protect the skin from the UV light. Meanwhile this light also damages collagen deep in the dermis, causing our skin to lose its elasticity and firmness. This changes the skin texture, causing looser skin, as well as wrinkles. UV exposure can also cause the epidermis to thicken, which results in a different texture known as "leathery skin". Lastly, sun damage can lead to dull skin and/or patchy 'roughness'.
Genetics and natural aging are additional contributors to uneven skin tone and texture – learn more about this on our aging skin page.
Uneven Skin Tone & Texture Treatment
Lougheed Laser has a number of treatments to address uneven skin tone and texture. IPL Photorejuvenation repairs sun damage to the skin utilizing light therapy to reduce pigmentation, and improve the look of dull skin and wrinkles. The Fraxel® Laser is a skin rejuvenation option that addresses the tissue deeper in the skin while safely resurfaces your skin to produce improved texture and smoother, more even skin tone. Fraxel® can reduce the appearance of scarring and larger areas of pigmentation like as melasma as well.
There other options to address uneven skin tone, dull skin and textural issues – for more information see the treatment links under "Related Treatments" or contact us to book a consultation with Dr. Marcia Fleming to determine the best treatment for your uneven skin tone.