About Dr. Marcia Fleming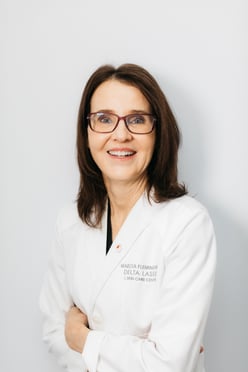 Congratulations to Dr. Fleming for completing the Diploma of Practical Dermatology with Distinction at Cardiff University. The Diploma in Practical Dermatology is a postgraduate course for general practitioners who wish to gain expertise in the practical management of skin disease. It is the qualification of choice for doctors wishing to establish themselves as GPs with a Special Interest in Dermatology. What an accomplishment!
Dr. Marcia Fleming is one of the most accomplished and respected Canadian physicians in the field of cosmetic rejuvenation and has been practicing in the Vancouver area for over fourteen years.
A well-educated and caring physician, Dr. Fleming is committed to providing the highest level of professional care in aesthetic medicine. Building upon her extensive knowledge base and skill set, Dr. Fleming is always striving to provide the best result possible for her patients. Over the years she has developed a very loyal group of patients who appreciate her relaxed and friendly nature, her honesty, and, of course, her cosmetic artistry.
Dr. Marcia Fleming's passion for aesthetic medicine led her to purchase Delta Laser & Skin Care Centre in 2004, and Lougheed Laser Centre in North Burnaby in 2007. At both locations, she has put together exceptionally strong teams who share her dedication to high standards of care.
EDUCATION & PROFESSIONAL BACKGROUND
After receiving her undergraduate degree as an honor roll Chemistry student at SFU, Dr. Marcia Fleming went on to obtain her M.D. from the University of British Columbia in 1987 and performed her internship at Dalhousie University until 1988. In 1990, Marcia Fleming became certified as a GP with a private practice primarily focusing on Obstetrics. Dr. Fleming has had privileges at Royal Columbian Hospital since 1990.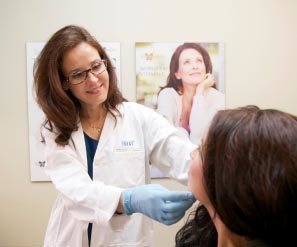 Dr. Marcia Fleming has been trained by physicians at the forefront of cosmetic dermatology and aesthetic laser medicine. She keeps on top of the constant change in the field of aesthetic medicine by attending international conferences, upgrading and certifying her skills with new technologies, and making educational visits to medical laser clinics throughout Western Canada and the United States. Dr. Fleming is also a clinical preceptor (instructor of physicians) for various aesthetic medicine techniques. Visit us for aesthetic treatments include Fraxel laser, HydraFacial, laser treatments and much more.
Dr. Fleming is a member in good standing of the BCAMA, CMA, and the CPSBC (College of Physicians and Surgeons of BC).
Contact us to make an appointment with Dr. Marcia Fleming.