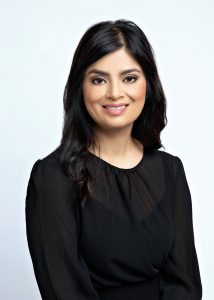 Dr. Mona Khurana is excited to join the team at Lougheed Laser Center. She is board-certified in family medicine and emergency medicine.
Dr. Khurana is currently working towards the completion of a Post Graduate Diploma in Practical Dermatology at Cardiff University and a fellowship with the American Academy of Aesthetic Medicine.
After many years of working in the emergency department and helping patients cope with challenging medical emergencies, she has shifted the focus of her career toward preventative health, wellness and aesthetics. This led her to become a certified wellness coach and to obtain a Diplomate in Lifestyle Medicine.
Dr. Khurana is passionate about providing safe, reliable and effective treatments to meet patient goals. She appreciates the importance of good communication and integrity in her role as a provider of medical aesthetic procedures.
Dr. Khurana has had a personal journey with migraine headaches that has impacted her quality of life. As a patient, she understands the challenges of living with chronic migraines and wants to help improve the lives of people who are affected by headaches. Botox treatments have been instrumental in helping improve her symptoms.
EDUCATION AND TRAINING
Dr. Khurana grew up in Vancouver and completed her Bachelor of Science in Microbiology and Immunology at the University of British Columbia (1999). She then attended Western States Chiropractic School in Portland, Oregon. After practicing as a chiropractor in Seattle for a short time, she gained acceptance to medical school at UBC (2004). She completed her residency in family medicine at the University of Toronto (2010) and then obtained her fellowship in emergency medicine (2015). Shortly thereafter, she returned home to Vancouver with her family to continue her practice of emergency medicine at multiple hospitals in the Greater Vancouver area. She has completed a clinical teaching program at the University of Toronto and is a Clinical Instructor with the Faculty of Medicine at UBC.
In 2018, Dr. Khurana began a journey of personal growth and discovery when she decided to become a Certified Wellness Coach at the College of Executive Coaching. Later in the same year, she became a Diplomate of the American Board of Lifestyle Medicine. This further increased her knowledge of the role of lifestyle factors in moderating health outcomes.