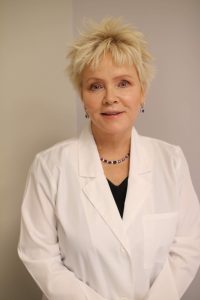 Dr. Maloney has an interest and a passion for helping patients look and feel their best.
As a specialist in Otolaryngology (Disorders of the Ear Nose and Throat), she is experienced with patients with facial aging concerns as well as chronic headaches. Through this, she developed an interest and expertise in treating patients with BOTOX® for pain and other neuromodulators and dermal fillers for cosmetic concerns.
She is a member of the Canadian Association of Aesthetic Medicine, the B.C. Otolaryngology Society, is a Fellow of the Royal College of Surgeons of Canada, a Diplomate of the American Board of Otolaryngology, and is a Clinical Instructor in the Department of Surgery at the University of British Columbia.
EDUCATION AND BACKGROUND
Dr Amanda Maloney, MD, FRCS(C), DABO, has practiced as a Board-Certified Ear-Nose and Throat Surgeon in Vancouver and the lower mainland.
As a specialist in Otolaryngology, Dr. Maloney was first introduced to the use of therapeutic BOTOX® for pain and headaches. As a surgeon, Dr. Maloney was very impressed by the possibilities of using minimally-invasive procedures such as cosmetic BOTOX®, dermal fillers and other skin care treatments to help her patients look their best. This helped her become passionate about aesthetic medicine.
Dr. Maloney now devotes her time between Delta Laser, Lougheed Laser and her otolaryngology practices. She continues to provide neuromodulator injections (BOTOX® Cosmetic, Dysport® and Xeomin®)and facial fillers as well as therapeutic BOTOX® treatments for a variety of pain conditions as well as the treatment of hyperhidrosis (excessive sweating). She continues to expand the procedures in her treatment regimens and will also be offering sclerotherapy and Belkyra® injections.